During Semester 1, students have made achievements in various areas outside the classroom. Here are some of the fantastic achievements which highlight our students' hard work and skill.
Equestrian
Holly G (Year 8), Holly K (Year 8), Priya (Year 8), Sophie (Year 8), Hannah (Year 9) and Harriet (Year 10) who represented our School at the WA Interschool Equestrian Championship. The students competed in more than 40 individual classes including dressage, show jumping, combined training and show hunter. Read more about their experience and wonderful achievements via the story on the website.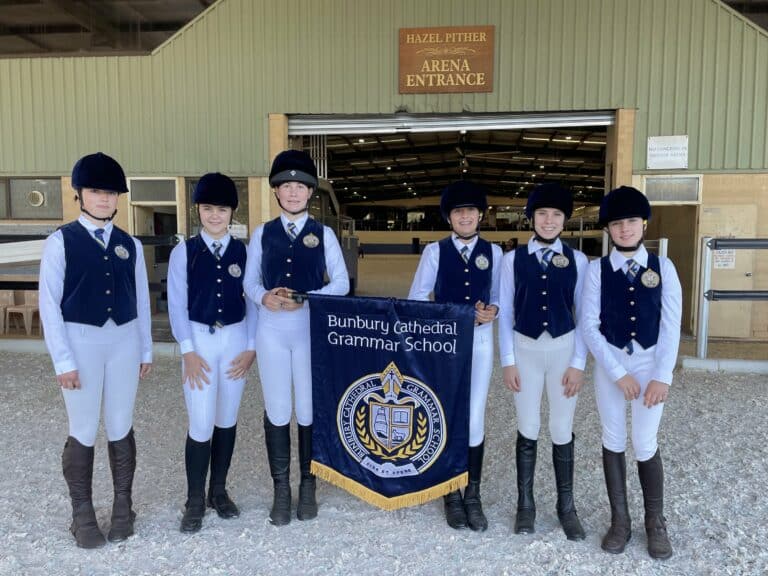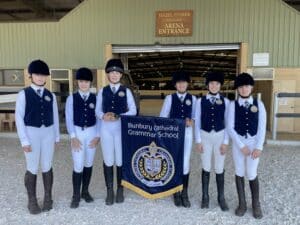 AFL
Kai (Year 7) and Jensen (Year 7) who have both been selected in the State AFL 12s team, competing in NSW this holidays.
Netball
Mia (Year 10) who was selected for the 2023 SSWA 15s Netball Team
Swimming
Ruby (Year 9), Lily (Year 11) and Scarlett (Year 11) who were part of the Busselton Swimming Club's team at the Gold Coast Australian Age Swimming Championships.
      Bel (Year 10):
Selected for the SSWA 16F (MC) Swimming Team
The only Western Australian swimmer selected to represent Australia at the Virtus Global Games in France. Bel competed in eight finals and four relays over five days, finishing with one gold, one bronze and two silver medals, as well as three fourth places.
Music
Well done to the following students who performed in the 2023 Bunbury Eisteddfod
Holly (Year 12) – 1st Open Scholarship Solo (Piano)
William H (Year 6) & Daniel F (Year 6) – Highly Commended – Strings Duo
Scarlett S (Year 4) – First place 10 & Under Contemporary Song (Live) Solo
Dharmik K (Year 7) – Viola
3rd place 12 & Under classical
1st place 12 & Under Folk and fiddle
1st place Grade 3
Medha K (Year 4) – 2nd place Cello Grade preliminary
Charlie D (Year 8)
1st Place GWW3083 3rd Grade Woodwind Solo (Clarinet)
3rd Place PK1114 14 & Under Piano – Classical Period Solo
Morgan D (Year 4)
1st Place PK1310 10 & Under Piano – 20th/21st Century "Classical Style" Solo
2nd Place ST3082 2nd Grade String Solo (Violin)
2nd Place ST1512 12 & Under String – Folk/Fiddle Solo (Cello)
3rd Place PK1210 10 & Under Piano – Romantic Period Solo
Kaleb M (Year 5)
1st place 10 & Under Piano – Own Choice Solo
1st place 10 & Under Piano – Jazz/Rags/Blues Solo
Eden C (Year 7) – 1st place 12 & Under Movie Character Song Solo
Nathan T (Year 3) – 1st place 8 & Under Piano – Baroque Period Solo
Victoria B (Year 4)
1st place 10 & Under Contemporary Song (Live Solo)
2nd place 10 & Under Novice Piano Solo
Hugh W (Year 5)
1st place 10 & Under Piano Baroque Period Solo
3rd place 10 & Under Piano 20th/21st Century "Classical Style" Solo
4th place Highly Commended 10 & Under Cello Classical Style Solo
Tejasvin D (Year 6)
1st place 12 & Under Piano Novice Solo
1st place Piano 3rd Grade Solo