The Year students had a fun time on camp down south. The highlight for most of them was meeting and learning about animals when they visited a farm. Here are some of their favourite things from camp:
Esmé Butcher :: When we learnt how to milk cows and got to ride the horses.
Clarabelle Stowe ::  When we went to the farm and saw the chickens because I love chickens. I also liked patting the rabbits.
Julian Bisluk :: I loved patting the rabbits!
Beau Casagrande :: I liked seeing a white rabbit which was really cool.
Bryce West :: I enjoyed riding the horses.
Bella Warnock-Smith :: I had fun riding the horses and milking the cows.
Kenna Harris :: I liked riding the horses, milking the cows and making bandannas.
Amelia McGirr :: I had fun at the glow in the dark bowling.
Peter Kavanagh :: When we went bowling at night and the finding the fairy doors.
Hanshikaa Ramaprasad :: My favourite parts were meeting the animals on the farm and finding the fairy doors.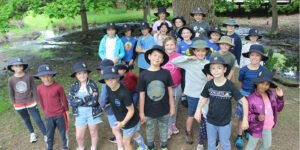 View more photos on the gallery.