Our Giving Day is a 24-hour online fundraising movement where we will be asking alumni and community members to dig deep for our Scholarship Fund. Bunbury Cathedral Grammar School's Giving Day will be taking place on Thursday, 9 June 2022.
Our School has supported many children who, without a scholarship, would not have been able to attend our School.
In our 50th Year, we are aiming to grow this program in perpetuity, so we can enhance and expand our existing scholarship programs.
How do I make a donation?
Give from 8.00am onwards on Thursday, 9 June 2022 and your donation will be doubled. To make your donation online head to our Giving Day page, or alternatively download the attached form and return it to the School.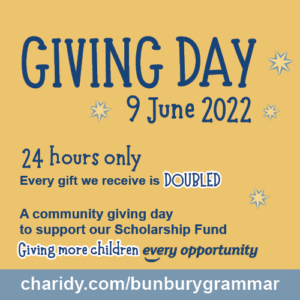 How can I get involved?
The easiest way to get involved is to donate! If you are keen to provide further assistance we are seeking volunteers to help spread the word and join us on the day to reach out personally to members in our community. If you would like more information please register via our form below.
Giving Day Volunteer
Let us know if you can help us to raise funds on our online Giving Day!